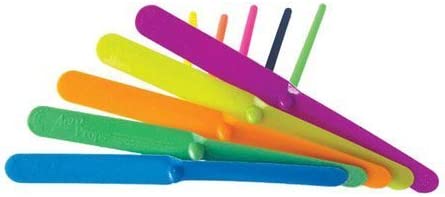 Aero-Motion "AeroProp" Helicopter Toy
"AeroProps" are fun on a stick!

The "AeroProp" is the highest quality flying propeller on the market!

Manufactured in the USA to ensure quality & optimum flight performance, "

AeroProps" are hard to beat.
These hand powered helicopters are simple to fly & completely addictive!
Just spin between your hands & watch them soar up to 30 feet in the air.
Do loops, play catch, shoot a target, invent your own tricks & much more!
Specs: 8 inch propeller with a 7 3/4 inch dowel Fly's 30+ feet in the air!
Colors may vary
NOTE: This is the original "AeroProp" & it flies MUCH better than less expensive copies.