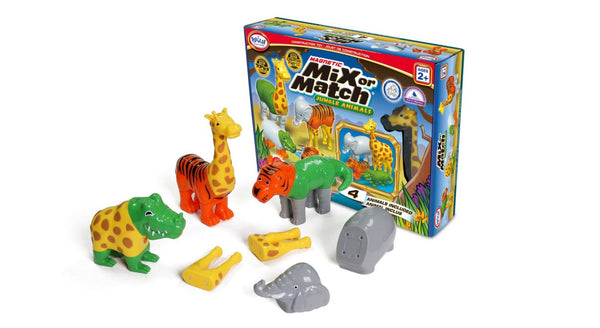 Mix or Match Animals "Jungle Animals"
This award winning set provides unlimited fun for young children!

Smiles, laughter & excitement are what every toy should inspire. Mix or Match Animals accomplishes just that!

The "Jungle Animals" set includes a tiger, a giraffe, an elephant & a crocodile.

The direct & indirect benefits of learning through play last a lifetime!

Build the 4 animals included with the strong magnetic connections or mix & match the pieces to create silly new animals. All the sets in this line are interchangeable, expanding the fun!

The magnetic locking system makes assembly a snap & the durable, safe pieces are designed to last through years of play & won't crack or expose the magnets.

What do you get when you cross a tiger, a crocodile & a giraffe? What would you call this animal? What would it eat? How would it walk? Giggles galore with these imagination-inspiring sets!

Large pieces are safe for little ones & putting them together is great fun for children ages 2 years & older.